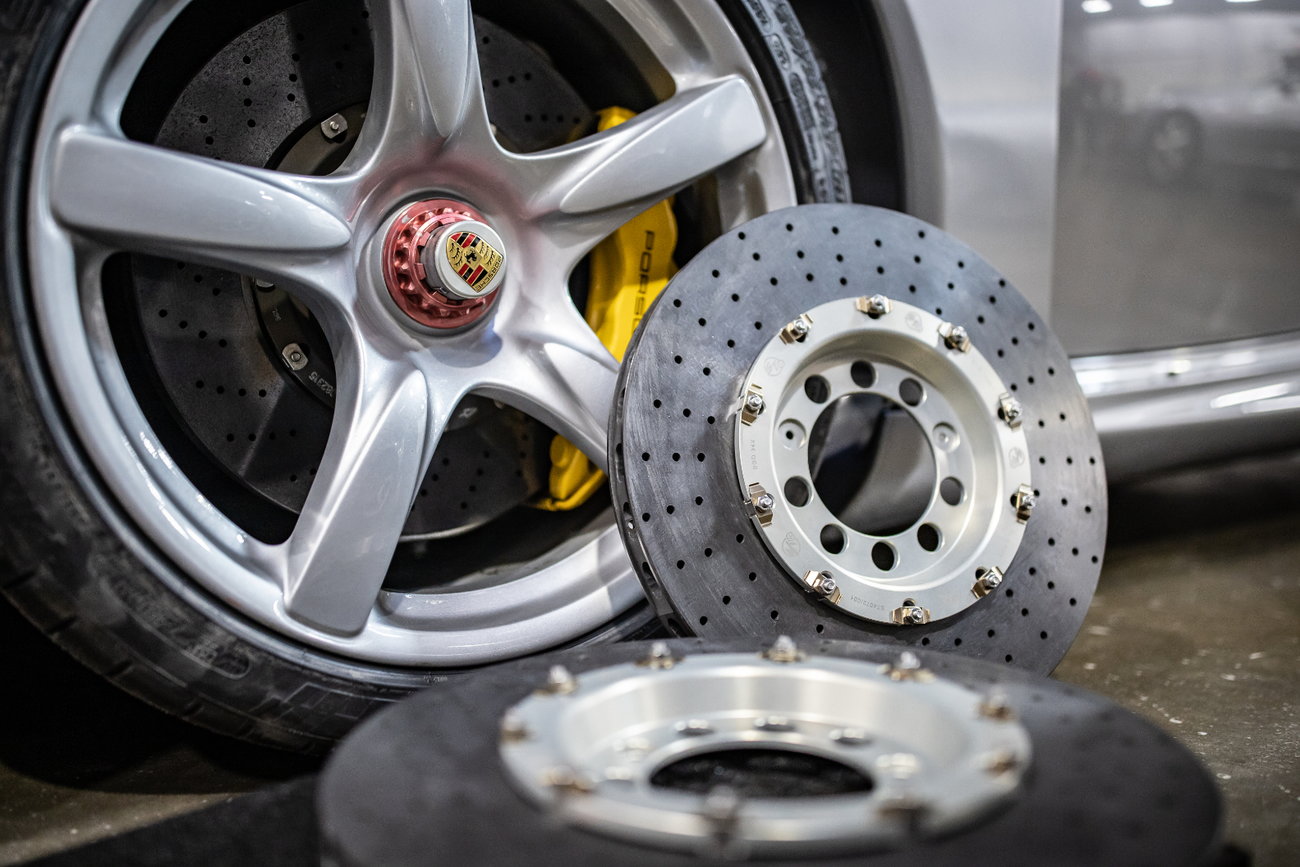 Repasi Motorwerks and Surface Transforms Introduce Cost-Effective Carbon Ceramic Brake Upgrade for Porsche Carrera GT
Repasi Motorwerks, in collaboration with Surface Transforms, is proud to announce the launch of the only Carbon Ceramic brake upgrade designed specifically for the Porsche Carrera GT. Manufactured by Surface Transforms, the UK's only manufacturer of carbon-ceramic brakes, this product is exclusively sold through Repasi Motorwerks.
With the latest carbon ceramic technology, Carrera GT owners can now upgrade their vehicles with a cost-effective performance upgrade over Porsche's first-generation Porsche Carbon Ceramic Brake rotors. Surface Transforms material is a next-generation Carbon Fiber Reinforced Ceramic (CFRC) which is produced by a proprietary process that transforms Carbon-Carbon into Carbon-Silicon Carbide (CSiC) ceramic. The carbon-ceramic discs fitted to the Carrera GT use discontinuous (chopped) carbon fiber. Surface Transforms interweaves continuous carbon fiber to form a 3D multi-directional matrix, producing a stronger and more durable product with 3x the heat conductivity of the standard Carrera GT components, this keeps the brake system temperature down and the brake performance consistent.
This new product offers significant improvements, including better heat management, which allows for lightweight design and improved performance. Lower wear rate and oxidation rate results in an increased lifespan, while consistent performance at all operating temperatures ensures reliable braking power. Reduced brake disc and pad wear give extended life to these essential parts, making this product an excellent investment for any Carrera GT owner.
At a retail price of $17,500.00 for a complete car set (four rotors), this product provides Carrera GT owners with a better driving experience while relieving the concern of a looming brake replacement at a cost of over $90,000.00 with Porsche factory replacement parts. The product is competitively priced and does not involve any tooling costs. Furthermore, it can be refurbished, which extends its lifespan, and the factory rotors can be safely stored away, preserving their condition and value forever.
James "Jimmy" Repasi, the owner of Repasi Motorwerks, says, "We are thrilled to partner with Surface Transforms to bring this innovative product to the Porsche Carrera GT community. Our aim is to provide Carrera GT owners with an excellent alternative to the costly factory replacement parts without sacrificing quality, reliability, and performance. This Carbon Ceramic brake upgrade is a game-changer, and we are excited to offer it exclusively to our customers."
For more information, please visit Repasi Motorwerks' website or contact them via email at Info@repasimotorwerks.com.
Contact: James "Jimmy" Repasi Repasi Motorwerks Phone: 123-456-7890 Email: Info@repasimotorwerks.com