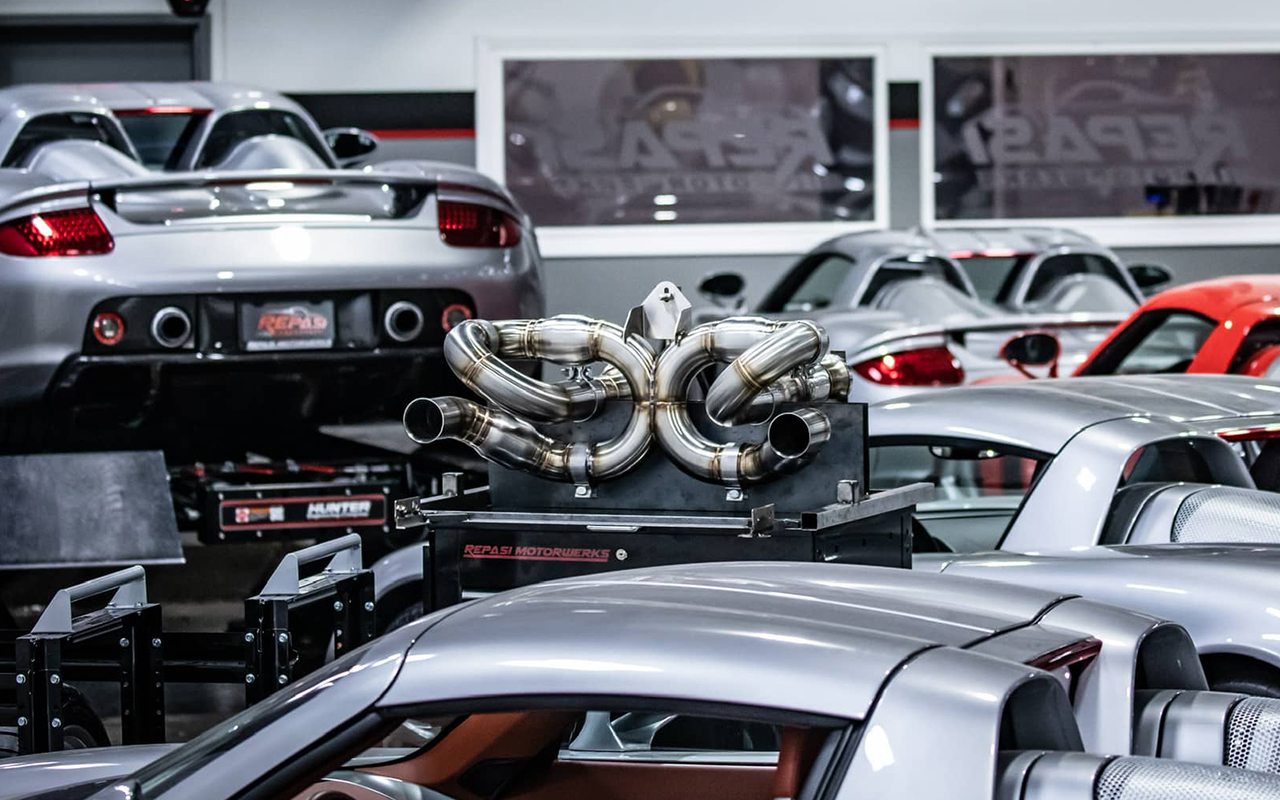 Repasi Motorwerks has recently released a new exhaust system for the Porsche Carrera GT, and it's causing quite a stir in the automotive industry. The new system is a high-performance upgrade that promises to enhance the driving experience of one of the most legendary supercars of all time.
The Carrera GT is already a spectacular vehicle, with a 5.7-liter V10 engine that produces a whopping 605 horsepower. However, Repasi Motorwerks' new exhaust system takes things to the next level. The system is made from high-quality stainless steel and is designed to increase exhaust flow and reduce backpressure, resulting in a noticeable increase in power and torque.
But that's not all. The new exhaust system also gives the Carrera GT a more aggressive and sporty sound. The exhaust note is deeper and more throaty, with a satisfying growl that is sure to turn heads wherever you go. And because the system is designed to reduce backpressure, it also helps to improve fuel efficiency, which is a nice bonus for drivers who want to get the most out of their supercar.
The design of the exhaust system is also a work of art. It features a dual exhaust layout with four exhaust tips that are integrated into the rear diffuser. The tips are finished in stunning stainless steel that looks amazing against the Carrera GT's sleek lines. Overall, the new exhaust system is a perfect complement to the Carrera GT's already-stunning design.
So, if you're lucky enough to own a Porsche Carrera GT, the new exhaust system from Repasi Motorwerks is definitely worth considering. It's a high-performance upgrade that promises to enhance the driving experience and give your supercar an even more aggressive and sporty sound. You can also have our new exhaust system installed by Repasi Motorwerks in our Stratford CT Porsche service location.
Tech Details:
Specifically designed to retain the F1-derived v10 pitch and to just add volume to help bring that unique sound inside the cabin.
The exhaust was developed to be as minimal and elegant as the Carrera GT itself.
This iteration, made in stainless steel with 4 race mufflers weighs under 30 pounds, saving nearly 50 pounds from the factory exhaust system.
Utilizing a flex pipe section similar to the factory exhaust for perfect fitment and aid in installation.
No modifications to the car require and it is completely reversible using all factory mounting points.
Priced at $8,980 – Purchase this exhaust today direct from Repasi Motorwerks.
The video below is a rough comparison video to compare audio to the factory system, and below the photos are some more sound clips. Full video release coming soon
Please comment with any questions, comments, or requests you may have in regard to this system. After all, I am only here to help and provide anything you, the Carrera GT community may need.
As always, thank you all for your continued support!
–
Jimmy Repasi
The Standard In Porsche GT Service
(203)257-0987
Info@RepasiMotorwerks.com
www.RepasiMotorwerks.com