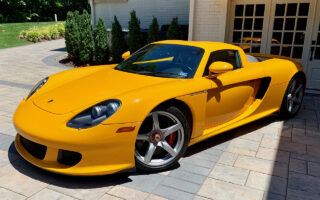 "Purchasing a Carrera GT isn't an impulse buy. One must exercise proper due diligence with a professional Pre-Purchase-Inspection (PPI). Upon a couple of phone convos and text messages with Carrera GT Certified Pro, Jimmy Repasi, Jr., I knew he'd be the man for such a task.
With tools and all his equipment, he quickly scheduled a trip to Philadelphia from CT to the selling dealer on the East Coast. He spent the day with my potential CGT and went through the car from top to bottom and side to side. Over 455 photos were taken and a full report documenting all the strengths and challenges with the car that would require attention. Clutch wear, DME readouts, paint condition, imperfections identified, as well as an inventory of what was to be sold with the car… were only some of the items provided in the complete and final report. A report substantiated with pictures stored in your very own "JimmyGT" thumb drive.
All in all, he gave me the peace of mind I needed prior to making a commitment with a big purchase.
I'll be sure to use Jimmy for all my CGT needs and recommend any potential/current owner to do the same."
-R.P